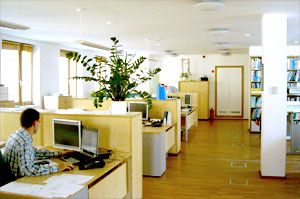 The ENCO Engineering Office Ltd. was established in 1981.
The Company's core activities are mechanical designing and implementation, technical assistance, consulting services, in designing:
Mechanical designing of financial centres, business centres, offices, shopping centres, hotels and other communal buildings
Mechanical designing of industrial buildings
Food industry projects (slaughterhouses, poultry processing plants, dairies, ice-cream plants, confectionery factories, breweries, soft drinks plants, wineries)
Auxiliary pharmaceutical manufacturing techniques, pharmaceutical utilities systems
Cooling technological and mechanical designing (cooling, heating, ventilating, air-conditioning, water supply and drainage systems, vacuum and CO2 systems) of food and chemicals industrial processes
Energy rationalization checking, heat utilizing systems, designing.
The Company's engineers are specialists with several decades of experience in mechanical designing and have participated in the implementation of large-scale projects in Hungary and abroad.
Office staff: 11 persons, Designers: 10 persons, number of CAD workplaces: 10.
The Office completes
studies,
materials to prepare decision-making,
preliminary designs
designs to issue tender invitation,
final designs and the
requisite textual materials
necessary for the implementation of a project by applying the most up-to-date computer-aided programmes.
The programme used is the AutoCad 2015; MEP2011-2015 Versions. The other programmes (Lindab Cadvent, Word for Windows, Excel) are used in our everyday work as well.
The Office has ISO 9001:2015 first qualification audited in 1996, audit number:  01-17289/16-12088.
The wide-ranging contacts that we have established with factories and contractors over our 29 years of activity ensure the involvement of experienced and reliable companies in the implementation of our Office's designs.
The Office also holds a Designer's Liability Insurance (70,000,000 HUF/year, 35,000,000 HUF/damage event).
The wide-ranging contacts with suppliers and contractors that the Office has established in the course of its activity of over 29 years ensure that only experienced and reliable companies are involved in implementing the designs produced by the Office.